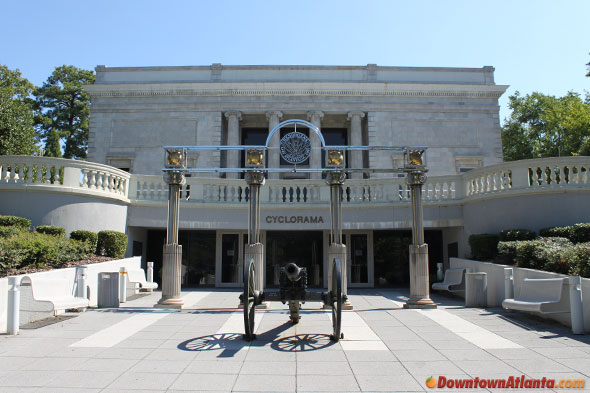 The Atlanta Cyclorama is a cylendrical painting featuring a panoramic view of the American Civil War. The cyclorama was painted from 1885 to 1886 by the American Panorama Company and depicts the Battle of Atlanta. Standing 42 feet high and stretching 358 feet in circumference, the Cyclorama is the largest oil painting in the world. In 1932, a diorama was added, creating 30 feet of depth to the painting.
Tours are conducted every hour on the half hour, from 9:30am to 4:30pm. The tour takes approximately 40 minutes and includes two parts. In part one of the tour, visitors can enjoy a 14 minute film that gives the history of events leading to the Battle of Atlanta. In part two of the tour, visitors enter the cyclorama to experience the battle through special lighting, sound effects, music and narration while viewing the rotating battle scene.
The Atlanta Cyclorama is housed in the Atlanta Cyclorama museum located in historic Grant Park, adjacent to Zoo Atlanta. The museum also includes pictures and artifacts from the war as well as The Texas, a steam locomotive made famous during the Great Locomotive Chase of the Civil War.
Admission:
$10 for adults 13-64
$8 for seniors 65 and up
$8 for children 4-12
Free for children 3 and under
Parking:
Free with admission
Hours:
Tuesday through Saturday from 9:15am to 4:30pm
Closed Sunday and Monday
Address:
800 Cherokee Ave SE
Atlanta, GA 30315
For more information, please call (404) 624-1071 or (404) 658-7625.