Downtown Atlanta is the epicenter of Metro Atlanta with its skyscrapers, hotels, entertainment centers and upscale eateries. Most visitors and locals prefer to stay Downtown as there are a large variety of lodging options that range from luxurious to moderate within walking distance of the heart of this blossoming southeastern city.
Every major hotel chain has a location in Downtown Atlanta, which makes it convenient for travelers who participate in frequent stay programs. One of the most popular hotels in the center of the Downtown Atlanta area is the
Westin Hotel in Downtown Atlanta.  The Westin is a popular option for more than just its familiar name. This historic hotel is the tallest hotel in the Western Hemisphere. The romantic Sun Dial Restaurant also sits perched at the top of this sophisticated hotel giving diners a stunning 360 view of Downtown Atlanta.
The Marriott Marquis downtown is an exquisite hotel that boasts 1663 recently renovated rooms with all of the amenities one could desire including an upscale sports bar and one of the most beautiful lobby bars in the city.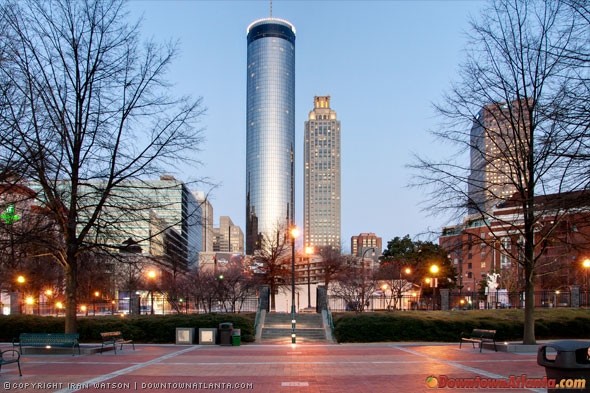 A somewhat recent addition to the hotels in Downtown Atlanta, the W Downtown is both a hotel and residential space with some of the chicest restaurants and bars in the city. For those stylish, fashion forward travelers who want access to high style and a trend-setting crowd, the W Downtown is the place to stay, be seen and party the night away.
Not every visitor is looking for a luxury hotel while staying in Downtown Atlanta. For the standard hotel that offers up quality rooms, great location and excellent service, the Hyatt Regency fits the bill and so much more. Located in the heart of Downtown Atlanta, this classic hotel attracts business travelers in town for conventions alongside families visiting the many attractions Atlanta has become known for.
For those who like the idea of staying at boutique hotels with their charm and intimate ambiance, there are several stellar choices available. The Georgian Terrace is one of the city's premiere boutique hotels with its elegant yet whimsical approach to style.
No matter what type of hotel you seek, there are several wonderful options available in Downtown Atlanta which makes this area a top destination for those traveling to Georgia. Known for its Southern Hospitality, Downtown Atlanta is the crown jewel of this bustling Southern city.
Atlanta Marriott Marquis
265 Peachtree Center Avenue Northeast
Atlanta, GA 30303
(404) 521-0000
W Hotel Downtown
3377 Peachtree Road Northeast
Atlanta, GA 30326-1009
(678) 500-3100
Hyatt Regency Atlanta
265 Peachtree Street Northeast
Atlanta, GA 30303-1294
(404) 577-1234
The Westin Peachtree Plaza
210 Peachtree Street
Atlanta, GA 30303
(866) 716-8128
Georgian Terrace Hotel
659 Peachtree Street Northeast
Atlanta, GA 30308
(800) 651-2316
Omni Hotel at CNN Center
100 CNN Center
Atlanta, GA 30303
(404) 659-0000
Georgia Tech Hotel and Conference Center
800 Spring Street Northwest
Atlanta, GA 30308
(404) 347-9440
Reissance Atlanta Downtown Hotel
590 W Peachtree Street Northwest
Atlanta, GA 30308
(404) 881-6000
Holiday Inn Hotel Downtown Atlanta
300 Spring Street Northwest
Atlanta, GA 30308
(404) 524-5555
The Ellis Hotel
176 Peachtree Street Northwest
Atlanta, GA 30303
(404) 523-5155
Wyndham Garden Hotel
175 Piedmont Avenue
Atlanta, GA 30303
(404) 659-2727
The Ritz-Carlton, Atlanta
181 Peachtree Street Northeast
Atlanta, GA 30303
(404) 659-0400
Super 8 Atlanta
111 Cone Street Northwest
Atlanta, GA 30303
(404) 524-7000
Hampton Inn & Suites Atlanta-Downtown
161 Spring Street Northwest
Atlanta, GA 30303
(404) 589-1111
Embassy Suites
267 Marietta Street
Atlanta, GA 30313
(404) 223-2300
Hyatt Place Atlanta Downtown
330 Peachtree Street Northeast
Atlanta, GA 30308
(404) 577-1980
Sheraton Atlanta Hotel
165 Courtland Street NE
Atlanta, GA 30303
1 (866) 501-1810