Downtown Atlanta boasts some of the best dining in the Southeast. Whether you're in the mood for authentic Italian, gourmet fare or good old-fashioned southern barbeque, there are numerous highly touted restaurants ready to take you on the culinary journey of your choice.
In the popular Centennial Park District in Downtown Atlanta, Rise Sushi Lounge offers an exceptional dining experience that is unlike any other. With the chic yet authentic décor, patrons are treated to the finest Japanese cuisine in the city. Sushi chefs create colorful sushi rolls which are wonderfully complemented by a carafe of sake.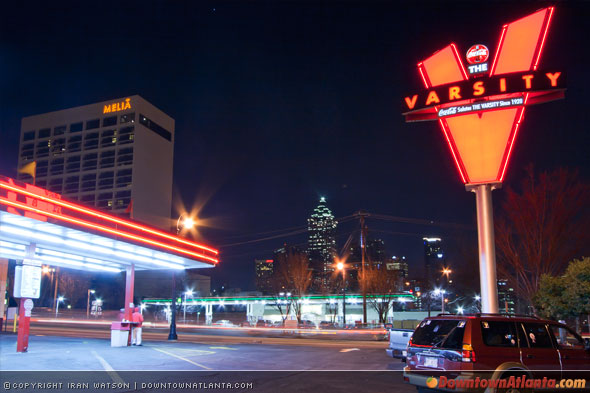 The Sun Dial Restaurant is a must-see if only for the stunning 360 degree view alone. Located atop the Westin Peachtree Plaza, this romantic restaurant serves new American cuisine alongside an extensive wine list. Most patrons prefer the early evening reservation in order to take advantage of the gorgeous sunsets.
It might come as a surprise but every cuisine imaginable is available in Downtown Atlanta. South American cuisine has recently taken the city by storm. Loca Luna is one of the best spots to sample Latin style tapas while imbibing their world famous mojitos and caipirinhas.
Traditional Southern fare is highly represented in Downtown Atlanta, which is ideal for those out of town travelers who are looking for a taste of the South. Sweet Auburn Seafood is a great example of traditional Southern coastal cooking with a progressive flair. Located in the historic Auburn Avenue area, Sweet Auburn Seafood livens up the culinary landscape with its upscale ambiance and lively crowd.
If a piece of nostalgia is what you seek, then look no further than The Varsity. This historic restaurant is the world's largest Drive-In eatery and is always jam-packed with patrons lining up for their world famous hot dogs, fries and hamburgers. What'll ya Have!
Der Biergarten is a German dining destination in the Centennial Park District in Downtown Atlanta. The dining destination, located at 300 Marietta Street, fills a citywide void for a beer garden and authentic German fare while providing world-class service in a festive, traditional atmosphere.
After enjoying the best of Atlanta's dining scene, one must save room for dessert. The only place to find the most delectable desserts this side of the Mason/Dixon line is at Café Intermezzo. Known for its extensive dessert and coffee menu as well as its late night availability, this romantically cozy restaurant is a sweet way to end the evening.
Dining in Downtown Atlanta is an adventure, one your taste-buds will gladly take.
Aamar Indian Cuisine
100 Luckie St NW, Atlanta, GA 30303
(404) 257-6959
Yelp
Alma Cocina (Mexican)
191 Peachtree Street, Atlanta, GA 30303
(404) 968-9662
Alma-Atlanta.com | Menu | Yelp
Atlanta Breakfast Club
249 Ivan Allen Jr Blvd, Atlanta, GA 30313
(470) 428-3825
AtlantaBreakfastClub.com | Menu | Yelp
Aviva by Kameel (Mediterranean)
225 Peachtree St NE, Atlanta, GA 30303
(404) 698-3600
AvivaByKameel.com | Menu | Yelp
Baraka Shawarma (Mediterranean, Indian)
68 Walton St NW, Atlanta, GA 30303
(404) 230-9232
BarakaShawarma.com | Yelp
Bartaco (Mexican, Tapas Bar)
969 Marietta St NW, Atlanta, GA 30318
(404) 607-8226
Bartaco.com | Menu | Yelp
Botiwalla (Indian)
Ponce City Market
675 Ponce De Leon Ave NE, Atlanta, GA 30308
(470) 225-8963
Botiwalla.com | Menu | Yelp
Der Biergarten
300 Marietta Street NW, Atlanta, GA 30313
(404) 521-2728
DerBiergarten.com | Menu | Yelp
Dua Vietnamese Noodle Soup
53 Broad St NW, Atlanta, GA 30303
(404) 589-8889
YouGotPho.com | Menu | Yelp
Eats
600 Ponce De Leon Ave, Atlanta, GA 30308
(404) 888-9149
EatsOnPonce.net | Menu | Yelp | Read: An Ode To Eats
El Super Pan
Ponce City Market
675 Ponce De Leon Ave NE, Atlanta, GA 30306
(404) 600-2465
ElSuperPan.com | Menu | Yelp
Flying Biscuit Cafe (Great Breakfast)
1001 Piedmont Avenue NE, Atlanta, GA 30309
(404) 874-8887
FlyingBiscuit.com | Menu | Yelp
Gus's World Famous Fried Chicken
The Mall at Peachtree Center
231 Peachtree Street NE, Atlanta, GA 30303
(404) 996-2837
GusFriedChicken.com | Menu | Yelp
Hard Rock Café
215 Peachtree Street NE, Atlanta, GA 30303-1779
(404) 688-7625
HardRock.com | Menu | Yelp
Herban Fix – Vegan Kitchen
565-A Peachtree St NE, Atlanta, GA 30308
(404) 815-8787
HerbanFix.com | Menu | Yelp
Highland Bakery
655 Highland Ave NE, Ste 10, Atlanta, GA 30312
(404) 586-0772
HighlandBakery.com | Menu | Yelp
Legal Sea Foods
Closing on December 18, 2018
275 Baker St NW, Atlanta, GA 30313
(678) 500-3700
LegalSeaFoods.com | Yelp
Loca Luna
550-C Amsterdam Avenue NE, Atlanta, GA 30306
(404) 875-4494
Loca-Luna.com | Menu | Yelp
Mary Mac's Tea Room
224 Ponce De Leon Ave NE, Atlanta, GA 30308
(404) 876-1800
MaryMacs.com | Menu | Yelp
Max Lager's Wood-Fired Grill & Brewery
320 Peachtree Street NE, Atlanta, GA 30308
(404) 525-4400
MaxLagers.com | Yelp
Max's Coal Oven Pizzeria
300 Marietta St NW, Atlanta, GA 30313
(404) 974-2941
MaxsAtl.com | Menu | Yelp
Morton's The Steakhouse
303 Peachtree Center Ave NE, Atlanta, GA 30308
(404) 577-4366
Mortons.com | Menu | Yelp
Nikolais Roof
Hilton Atlanta
255 Courtland St NE, Atlanta, GA 30303
(404) 221-6362
NikolaisRoof.com | Yelp
Papi's Cuban & Caribbean Grill
216 Ponce De Leon Ave NE, Atlanta, GA 30308
(404) 607-1525
PapisGrill.com | Menu | Yelp
Paschal's Restaurant (Fried chicken, Southern specialties)
180 Northside Dr SW #B, Atlanta, GA 30313
(404) 525-2023
PaschalsAtlanta.com | Menu | Yelp
Petit Chou (French cafe)
662 Memorial Dr SE, Atlanta, GA 30312
(470) 270-8996
PetitChouAtl.com | Menu | Yelp
PokéSpot
200 Peachtree St NE, Atlanta, GA 30303
(678) 810-1166
PokeSpot.com | Menu | Yelp
Polaris (Rotating restaurant, Southern fare)
Hyatt Regency Atlanta
265 Peachtree Street, Atlanta, GA 30303
(404) 460-6425
PolarisAtlanta.com | Menu | Yelp
Poor Calvin's (Asian Fusion)
510 Piedmont Avenue NE, Atlanta, GA 30308
(404) 254-4051
PoorCalvins.com | Menu | Yelp
Ray's In the City
240 Peachtree St SW, Atlanta, GA 30303
(404) 524-9224
RaysRestaurants.com | Menu | Yelp
Ruth's Chris Steak House
267 Marietta Street
Atlanta, GA 30313
(404) 223-6500
RuthsChris.com | Menu | Yelp
Satto Thai & Sushi Bar
768 Marietta Street
Atlanta, GA 30318
(404) 522-5655
SattoThaiAtlanta.com | Menu | Yelp
Slice Downtown (NYC-style pizza & Italian)
85 Poplar St NW, Atlanta, GA 30303
(404) 917-1820
SliceDowntownAtlanta.com | Yelp
Staplehouse (American New, advanced reservations recommended)
541 Edgewood Ave SE, Atlanta, GA 30312
(404) 524-5005
Staplehouse.com | Menu | Yelp
STATS Brewpub
300 Marietta St NW, Atlanta, GA 30313
(404) 885-1472
StatsAtl.com | Menu | Yelp
Sun Dial Restaurant Bar & View (Rotating restaurant with great views)
210 Peachtree Street NW, Atlanta, GA 30303
(404) 589-7506
SundialRestaurant.com | Yelp
Sweet Auburn Seafood
171 Auburn Avenue NE, Atlanta, GA 30303
(678) 974-5019
SweetAuburnSeafood.com | Menu | Yelp
Ted's Montana Grill (Ted Turner's Old West steakhouse featuring bison burgers)
133 Luckie St NW, Atlanta, GA 30303
(404) 521-9796
TedsMontanaGrill.com | Yelp
Torched Hop Brewing
249 Ponce De Leon Ave NE, Atlanta, GA 30308
(404) 835-2040
TorchedHopBrewing.com | Menu | Yelp
Trader Vic's (Polynesian restaurant established in 1934)
Hilton Atlanta
255 Courtland St NE, Atlanta, GA 30303
(404) 221-6339
TraderVicsAtl.com | Menu | Yelp
Trilogy Cigar Lounge
375-B Luckie St NW, Atlanta, GA 30313
(678) 304-6198
TrilogyCigarLounge.com | Menu | Yelp
Truva Turkish Kitchen
1716, 60 Andrew Young International Blvd NE, Atlanta, GA 30303
(404) 577-8788
TruvaAtlanta.com | Menu | Yelp
The Varsity (a classic – one of a kind)
61 North Ave NW
Atlanta, GA 30308-2166
(404) 881-1706
TheVarsity.com | Menu | Yelp
Vortex Bar & Grill (Great Hamburgers, 21+ only)
878 Peachtree Street NE
Atlanta, GA 30309
(404) 875-1667
TheVortexAtl.com | Menu | Yelp
Zocalo Mexican Kitchen and Cantina (Creative Mexican)
187 10th Street NE
Atlanta, GA 30309-4050
(404) 249-7576
EatZocalo.com | Menu | Yelp