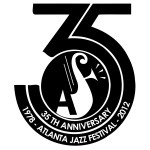 One of the reasons Atlantans love living in this Southern metropolis is because of the myriad of outdoor festivals that take place throughout the year. The Atlanta Jazz Festival gets summertime started with a bang during Memorial Day weekend and is country's largest free jazz festival. Located in the beautiful Piedmont Park, this free festival brings together some of the jazz world's most celebrated artists to perform for an estimated 150,000 jazz enthusiasts and fans each day. The festival includes three stages around the park including the Mainstage, International Stage & the Beer Garden Stage
as well as a KidZone featuring face painters, arts & crafts and interactive play for all.
One of the major reasons the Atlanta Jazz Festival is such a big draw is the location. Piedmont Park is the city's largest public park and is a gorgeous space for a concert series. The green trees and man-made lake create a beautiful backdrops for such a uniquely rich art form as jazz, and this year's line-up is sure to bring thousands of newcomers into the flock.
In addition to listening to great musicians and enjoying the scenic qualities of Piedmont Park, attendees can also partake in some amazing food, art, jewelry and other local fare. Some attendees prefer to pack their own basket with food and drinks (no glass containers) and other delicious treats as this outdoor concert is the ideal setting to spread out a blanket and relax with friends and family.
For those jazz enthusiasts who want to expose children to this unique cultural art form, there is a Kidzone which offers up activities and other interactive games that keep children entertained and introduce them to the powers of jazz music while attending the festival.
An interesting fact about the Atlanta Jazz Festival is that it actually takes place for thirty-one days during the month of May. There are numerous activities such as jazz educational workshops, classes and special concerts that take place around the city all coming to an exciting climax during the weekend long concert on Memorial Day weekend.
The Atlanta Jazz Festival is a glorious celebration of art, music, culture and food near the heart of Downtown Atlanta.
Dates:
11am to 11pm
May 26-28, 2012
Location:
Piedmont Park
Cost:
Free and open to the public
Directions
BY CAR
Parking in and around the park is very limited. Park visitors are strongly encouraged to utilize public transportation. I
By MARTA
Midtown Station — take 10th Street towards Peachtree Street and continue on 10th until you reach Piedmont Avenue. Turn left on Piedmont Avenue and walk two blocks to the 12th and 14th Street gates of Piedmont Park. (or you can continue walking on 10th Street and the park will soon be on your left side).
Arts Center Station — head south on West Peachtree street for one block. Head east (go left) on 14th Street for three blocks until you reach the 14th Street entrance to the Park.
MARTA bus Route 27 (Monroe Dr./Lindbergh) and Route 36 (North Decatur) run by Piedmont Park.
For additional information, please call MARTA at (404) 848-4711.
BIKE/ON FOOT
Park entrances open to pedestrians and cyclists include:
– Park Drive Bridge (access Park Drive from Monroe Drive)
– 10th Street & Charles Allen (park runs along 10th Street from just west of Monroe Drive on 10th Street to a block short of Piedmont Avenue & 10th Street)
– Piedmont Avenue & 12th Street
– Piedmont Avenue & 14th Street
WHEELCHAIR ACCESSIBILITY
The following park entrances are wheelchair accessible: 12th Street Gate; 14th Street Gate; Charles Allen Drive Gate; Park Drive.
For more information, please call (404) 546-6820.
[mappress]